Boston police are looking for a suspect after an "unprovoked" att*ck in the Longwood Medical area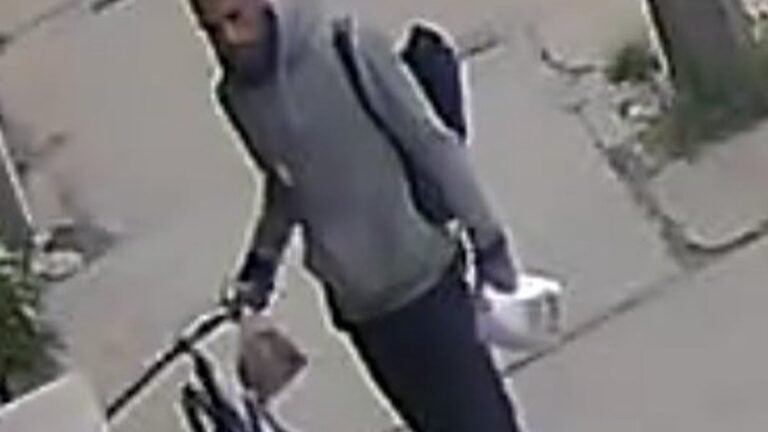 Criminality

The woman told police that she had been hit with a blunt object.
Boston police are looking for a man who allegedly hit a woman with a blunt object Monday in the Longwood Medical area.
The "unprovoked" att*ck took place in the Binney Street area around 1:50 pm, police said.
The victim identified the suspect as possibly a Latin American in a gray sweatshirt.
Police called anyone with information to contact detectives in Area B-2 at 617-343-4275. To help anonymously, community members can call the CrimeStoppers Helpline at 1-800-494-TIPS or text "TIP" to CRIME (27463).
Subscribe to the newsletter
Stay up to date with the latest news from Boston.com
if (typeof(window.bgmpGdpr) !== 'undefined' && !window.bgmpGdpr.isOptedOut()) {
!function(f,b,e,v,n,t,s)
{if(f.fbq)return;n=f.fbq=function(){n.callMethod?
n.callMethod.apply(n,arguments):n.queue.push(arguments)};
if(!f._fbq)f._fbq=n;n.push=n;n.loaded=!0;n.version='2.0′;
n.queue=[];t=b.createElement(e);t.async=!0;
t.src=v;s=b.getElementsByTagName(e)[0];
s.parentNode.insertBefore(t,s)}(window, document,'script',
'
fbq('init', '989222871864976');
fbq('track', 'PageView');}
if (typeof(window.bgmpGdpr) !== 'undefined' && !window.bgmpGdpr.isOptedOut()) {
!function(f,b,e,v,n,t,s){if(f.fbq)return;n=f.fbq=function()
{n.callMethod? n.callMethod.apply(n,arguments):n.queue.push(arguments)}
;if(!f._fbq)f._fbq=n;
n.push=n;n.loaded=!0;n.version='2.0′;n.queue=[];t=b.createElement(e);t.async=!0;
t.src=v;s=b.getElementsByTagName(e)[0];s.parentNode.insertBefore(t,s)}(window,
document,'script','
fbq('init', '813236348753005');
fbq('track', "PageView");}

#Boston #police #suspect #unprovoked #att*ck #Longwood #Medical #area

Source link