Buses will replace trains on the sections of the green and red lines starting this weekend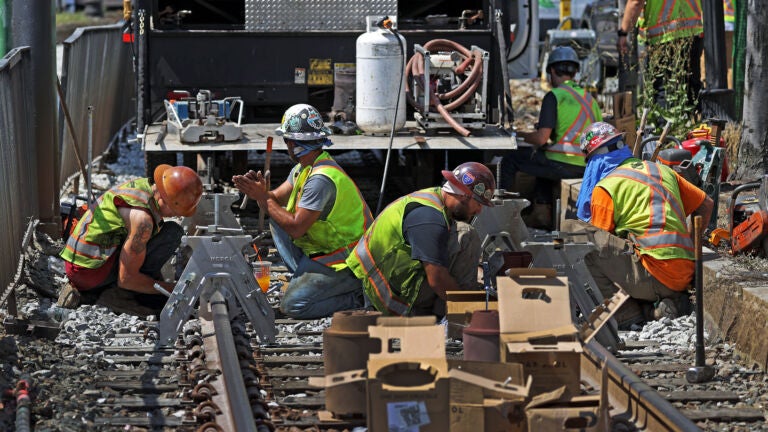 Local

The sections of the green and red lines will be closed from October 8.
Both the green and red lines will be closed soon for repairs and upgrades, so shuttle buses will replace trains on these sections for a few days.
On the green line, the entire branch D will be replaced by shuttle buses from October 8 to 16.
During the downtime, shuttle buses will not stop at the Beaconsfield stop as narrow roads make it unsafe, MBTA said in the press release.

The Transit Authority recommends that passengers using the Beaconsfield stop use the Dean Road stop on Line C, which is a two-minute walk from Beaconsfield, or the Reservoir stop on Line D, which is a nine-minute walk from Beaconsfield.
Line D will be finally closed from October 22-30.
During these closings, which began in September, the MBTA replaces more than 6,000 feet of track; replacement of six pedestrian crossings at Woodland, Waban and Eliot stations; and installing train protection system equipment.

Additionally, on the weekend of October 8 and 9, shuttle buses will replace the trains between Davis and Alewife stops on the Red Line, so that crews can work on tracks in this area.
The stops will only be closed on these two days and will reopen on Monday 10 October.
Subscribe to the newsletter
Stay up to date with the latest news from Boston.com
if (typeof(window.bgmpGdpr) !== 'undefined' && !window.bgmpGdpr.isOptedOut()) {
!function(f,b,e,v,n,t,s)
{if(f.fbq)return;n=f.fbq=function(){n.callMethod?
n.callMethod.apply(n,arguments):n.queue.push(arguments)};
if(!f._fbq)f._fbq=n;n.push=n;n.loaded=!0;n.version='2.0′;
n.queue=[];t=b.createElement(e);t.async=!0;
t.src=v;s=b.getElementsByTagName(e)[0];
s.parentNode.insertBefore(t,s)}(window, document,'script',
'
fbq('init', '989222871864976');
fbq('track', 'PageView');}
if (typeof(window.bgmpGdpr) !== 'undefined' && !window.bgmpGdpr.isOptedOut()) {
!function(f,b,e,v,n,t,s){if(f.fbq)return;n=f.fbq=function()
{n.callMethod? n.callMethod.apply(n,arguments):n.queue.push(arguments)}
;if(!f._fbq)f._fbq=n;
n.push=n;n.loaded=!0;n.version='2.0′;n.queue=[];t=b.createElement(e);t.async=!0;
t.src=v;s=b.getElementsByTagName(e)[0];s.parentNode.insertBefore(t,s)}(window,
document,'script','
fbq('init', '813236348753005');
fbq('track', "PageView");}

#Buses #replace #trains #sections #green #red #lines #starting #weekend

Source link