Democrat Paul Heroux announces victory over longtime Sheriff Thomas Hodgson in Bristol County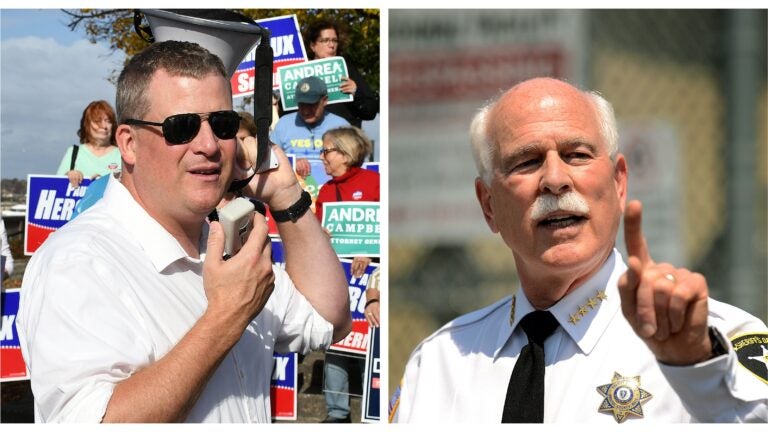 Policy

"I think Hodgson, who has been there for 25 years, with constant controversy, people are just ready to change."
Democrat Paul Heroux announced victory early Wednesday morning in a race for the Bristol County Sheriff against outgoing Sheriff Thomas Hodgson.
Hodgson, a staunch supporter of former President Donald Trump who has served as sheriff since 1997, has admitted according to multiple media reports.
By 8:30 am, about 80 percent was counted. votes, according to the Associated Presswhich has not yet named the race.
Heroux, the current mayor of Attleboro, campaigned for the county change, citing his experience as a former state representative and working in both the Philadelphia Prison System and the Massachusetts Department of Corrections. He promised to serve only two terms if elected, and said he would focus on reducing re-offending through rehabilitation, measure programs to ensure their operation and make the county jail a "modern national model" of transparency.
Meanwhile, Hodgson who was criticized for the harsh treatment of prisoners and has been at the center of controversy over the years, including: once a victim his inmates working on Trump's southern border wall focused on his reputation as a "crime tough" candidate.
In 2021, the Biden administration severed contacts with Hodgson, breaking contracts the Immigration and Customs Service had made with the sheriff's office to accommodate undocumented immigrants and perform certain enforcement duties, citing "unacceptable" treatment of detainees.
Last week, he facing slack for an announcement that critics have labeled anti-Semitic, which was denied by the sheriff.
"I think Hodgson, who has been there for 25 years, with constant controversy, people are just ready for a change," Heroux said after announcing the victory: according to Public Radio.
Hodgson surrendered around 1:15 on Wednesday.
"It was a great run for me," said The Public Radio. "Twenty-five years as sheriff, the people of this county have placed their trust and the honor of serving me, and I couldn't be more grateful. Now it's time to turn the page for the people of the county because they have decided they want it to be.
Subscribe to the newsletter
Stay up to date with the latest news from Boston.com
var consent="grant";
/* The above code is parsing the JSON data from the local storage and storing it in a variable. */
const onetrustStorageConsent = JSON.parse(localStorage.getItem( 'consent_one_trust_bdc' ) );
if ( ( onetrustStorageConsent !== null ) ) {
/* Checking to see if the user has consented to the use of cookies.
* If they have not, it is deleting the cookie.
* This will comment for now, until further notice.
*/
//if ( onetrustStorageConsent.C0002 === false ) {
// document.cookie="_fbp=;expires=Thu, 01 Jan 2010 00:00:00 UTC; path=/; domain=.boston.com";
//}
/* Checking if the user has given consent for the cookie C0002.
* If the user has given consent, the variable consent will be set to 'grant'.
* If the user has not given consent,the variable consent will be set to 'revoke'.
* Documentation
*/
if ( onetrustStorageConsent.C0002 !== true ) {
consent="revoke";
}
}
!function(f,b,e,v,n,t,s)
{if(f.fbq)return;n=f.fbq=function(){n.callMethod?
n.callMethod.apply(n,arguments):n.queue.push(arguments)};
if(!f._fbq)f._fbq=n;n.push=n;n.loaded=!0;n.version='2.0′;
n.queue=[];t=b.createElement(e);t.async=!0;
t.src=v;s=b.getElementsByTagName(e)[0];
s.parentNode.insertBefore(t,s)}(window, document,'script',
'
fbq('consent', consent);
fbq('init', '989222871864976');
fbq('track', 'PageView');
var consent="grant";
/* The above code is parsing the JSON data from the local storage and storing it in a variable. */
const onetrustStorageConsent = JSON.parse(localStorage.getItem( 'consent_one_trust_bdc' ) );
/* Checking to see if the user has consented to the use of cookies.
* If they have not, it is deleting the cookie.
* This will comment for now, until further notice.
*/
//if ( onetrustStorageConsent.C0002 === false ) {
// document.cookie="_fbp=;expires=Thu, 01 Jan 2010 00:00:00 UTC; path=/; domain=.boston.com";
//}
/* Checking if the user has given consent for the cookie C0002.
* If the user has given consent, the variable consent will be set to 'grant'.
* If the user has not given consent,the variable consent will be set to 'revoke'.
* Documentation
*/
if ( ( onetrustStorageConsent !== null ) && (onetrustStorageConsent.C0002 !== true ) ) {
consent="revoke";
}
!function(f,b,e,v,n,t,s){if(f.fbq)return;n=f.fbq=function()
{n.callMethod? n.callMethod.apply(n,arguments):n.queue.push(arguments)}
;if(!f._fbq)f._fbq=n;
n.push=n;n.loaded=!0;n.version='2.0′;n.queue=[];t=b.createElement(e);t.async=!0;
t.src=v;s=b.getElementsByTagName(e)[0];s.parentNode.insertBefore(t,s)}(window,
document,'script','
fbq('consent', consent);
fbq('init', '813236348753005');
fbq('track', "PageView");
#Democrat #Paul #Heroux #announces #victory #longtime #Sheriff #Thomas #Hodgson #Bristol #County

Source link