For alleged terror*st financing, the Swedish telecommunications giant Ericsson is due to compensate all ISIS victims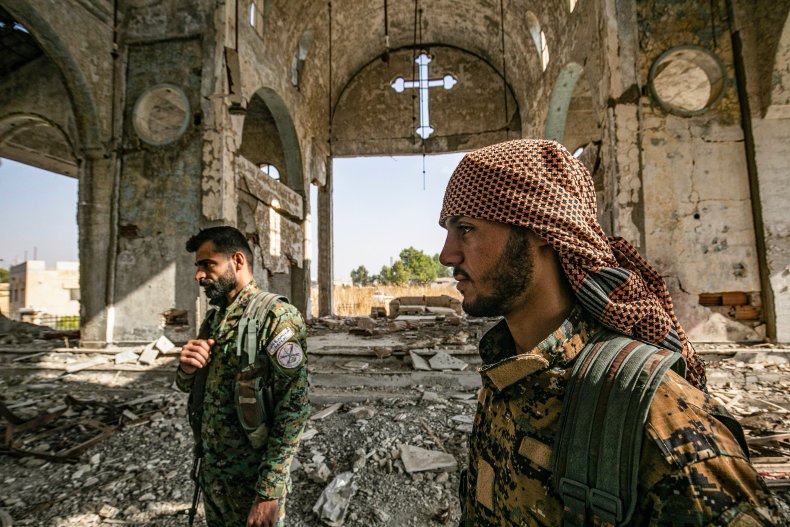 I was first informed of a circulating video of terror*sts slitting the throat of a man in 2004. The phone is from one of my sources in Södertälje, a small Swedish town where 40 percent of the population has Christian roots in the Middle East. I wanted to see the video but my source didn't have it. I went to Södertälje and had a DVD in a few hours. The activist who gave it to me told me to believe that the clip could cause a trauma to me. I put it on my laptop.
In January 2005, I interviewed the bereaved Farouk Chamoun. I saw his son's head beheaded. According to al-Qaeda, Raymond Chamoun and two other Christians were infidels and traitors. They were brutally m*rdered on suspicion of collaborating with American troops. Terrorists distributed copies of the video to Christians in Iraq. It was also sold at fairs as a sign that "infidels" had no place in their ancient homeland, that Christians should pack their bags and depart. The m*rders of three young men have never been picked up by the mainstream media.
Ten years later, on August 20, 2014, ISIS, a new fast-growing terror*st group founded by former al-Qaeda leaders in Iraq, released a video of the beheading of an American journalist James Foley. Foley's brutal m*rder shook the world. The video was published and posted on most traditional media and distributed by millions on social media. This was the moment when decapitations became common knowledge. Next-President Barack Obama, speaking of the brutal killing of Foley, emphasized that Christians and other religious minorities are under att*ck by ISIS.
"They track down Christians and religious minorities, drive them out of their homes, kill them when they can't, for any reason other than practicing a different religion. They declared their ambition to commit genocide against an ancient nation, "Obama said.
By "ancient people" the former president meant the Assyrians of Iraq, also known as Chaldeans and Syrians. A few weeks before the m*rder of James Foley, ISIS issued an ultimatum to Christians in Iraq and Syria: convert to Islam, pay taxes, flee or die.
Eight years later, on August 5 this year, American families killed, injured or held hostage by terror*st groups in the Middle East sued Swedish telecommunications giant Ericsson. James Foley's family is one of hundreds of reasons.
Ericsson is sued by 528 American men and women. This includes civilians who were victims of terror*st att*cks and hostage-taking in 2005-2021, as well as the families of those killed in such att*cks.
The allegations against Ericsson are based on reports from the International Consortium of Investigative Journalists (ICIJ) and "information from witnesses, along with declassified intelligence, testimony and reports from Congress and other press coverage." ICIJ obtained disclosed documents that Ericsson allegedly helped finance suic*de att*cks, beheadings and other terror*st acts in Syria, Iraq and Afghanistan.
Since 2004, there has been a silent ethnic-religious cleansing of Christians and other indigenous peoples of Iraq, including Yazidis and Mandeans, from their homeland. In the Middle East, hundreds of churches have been b*mbed, members of the clergy have been killed, and hundreds, if not thousands, of Christians have been kidnapped for ransom. Often, families were forced to pay a ransom to later find their abducted relatives in sacks, m*rdered.
Before the fall of the Iraqi dictator Saddam Hussein, it is estimated that 1.2 million Christians lived in Iraq. The numbers are different now as there are only about 120,000-250,000 Christians left in the country. Before the war in 2011, Syria was home to over 1.5 million Christians. Now 600,000 Christians have fled the country.
I have lived with this knowledge of the persecution in Iraq (and later in Syria) for 18 years. First 10 years as a journalist and author, and from 2014 as an advocate for Middle Eastern minorities. I met thousands of surviving Christians, Yazidis and Mandeans. In the summer of 2010, there were many signs that atrocities against them could degenerate into full-scale genocide. Many of us journalists and activists have begged the world without an ear to help stop the violence before it is too late.
I recently spoke to Riyad, one of the survivors of Massacre at the Syrian Catholic Church in Baghdad in October 2010.. Six suic*de jihadists att*cked the church during mass. Almost 50 parishioners were killed and 80 were injured. I witnessed the terrible massacre on the phone. A man who was forcibly deported from Sweden called me from a church bathroom during the violence. I heard two young priests begging terror*sts not to kill anyone. When they were later found, the bodies of the clergymen were sprayed with bullets.
Riyad, who lost his family members in the att*ck, now lives in California. We talked about the trial against Ericsson and whether the Iraqis and Syrians, whose families were destroyed forever, could also sue the Swedish telecommunications company. According to several lawyers we have both spoken to, now that many of these victims are US citizens, that may be possible.
Families who have survived the ISIS genocide – Christians and other minorities – who have fled to the United States should also be able to fight for justice. Members of my organization, Request for action, are in daily contact with survivors of terror*st war crimes. The time has come for them to sue Ericsson as well.
Nuri Kino is an independent, award-winning investigative reporter and expert on minority rights.
The views expressed in this article are those of the author.
#alleged #terror*st #financing #Swedish #telecommunications #giant #Ericsson #due #compensate #ISIS #victims

Source link