SAS: Rebel heroes is the new EPIX war drama that follows the rise of the British Special Air Service (SAS).
The performance, starring Connor Swindells, Alfie Allen and Jack O'Connell as David Stirling, John Steel "Jock" Lewes and Paddy Mayne, SAS founders, examines the development of the individual.
Here's everything you need to know about the story and how much the drama really happened, ahead of its premiere on Sunday November 13.
Is SAS: Rogue Heroes based on a true story?
SAS: Rebel heroes is based on the creation of a true Special Air Service during World War II in 1941.
In fact, the SAS was founded by Scottish British Army officer David Stirling, played by Connor Swindells, with the unit operating as a commando unit in the British Army. It concentrated on working behind enemy lines to att*ck Axis forces.
Stirling, Paddy Mayne, and Jock Lewes were the three founding members of the groups, with Lewes acting as the training officer while Mayne helped lead the team along with Stirling before taking over the unit.
The EPIX drama is based on the Ben Macintyre history book of the same name and creator Steven Knight said Newsweek how he used Macintyre's work, and also met one of the original SAS members, Mike Sadler (played by Tom Glynn-Carney), to tell the story of an individual in a drama.
Knight said Macintyre's books were "so wonderfully written and comprehensive that they have produced? [him] an overview of what happened, "and added," Then [I] rather [dug] to first-hand reports, I am always very happy to use first-hand reports, i.e. diaries and accounts of people who were there.
Outrageously true
"So I started using them, and then you just have to take a deep breath, jump into it and start telling this story, so I started telling the story, really affirming Stirling, Paddy Mayne, Jock Lewes and like these three people who were very differ from each other, they came together to create this extraordinary organization. "
On how much of the story was true, Knight added: "Things that are so outrageous and wild that you think someone had to make up are actually real things.
"Often I had to do what really happened, was to make it smaller so that the viewers would believe it, because the reality was so wild and so bizarre that you viewers would think that" it couldn't have happened, "but it did. The things that are least credible are the most real. "
The Peaky Blinders the creator said his time with Sadler helped confirm the way the characters should approach their situation, with an atmosphere of peace which meant they never felt overwhelmed by the risk being taken: "The way he would talk about times of great danger when his life was in danger and he spoke of it as a small event.
"When you say 'we run into machine guns and it wasn't perfect', it meant you couldn't succumb to fear, and the danger of doing the opposite, you say 'it was nothing,' you say 'it was good, it was good'. "
Knight added that this "absolutely" helped talk to Sadler during the show, saying, "There are several events in the first episode that are a consequence of talking to Mike about real events that were never recorded."
Referring to the scene where Swindells Stirling throws a fake grenade on a pool table to clear the room, Knight said it was "a real event that was never recorded, which came out of a conversation I had with him, and that was a real indicator of how crazy these kids are.
"Like people who were prepared to do these wild things in a very limited and understated way. I think the best thing in the whole series is capturing a completely different way young men are men, which I hope people will get. "
A "fresh" story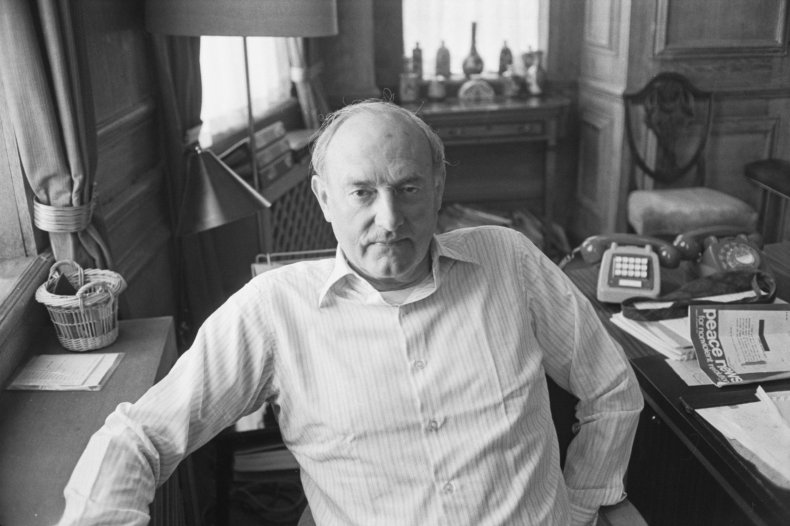 Tom Shankland, the show's director, also said Newsweek how it was the amazing true story that drew him to the project as it "felt fresh" even though the show takes place in 1943.
"I was studying history and found WWII to be fascinating, but it wasn't a specific part of the story I knew," said Shankland. "So I felt fresh and I thought it was so amazing that it felt a bit like he was talking to me there and then, and he wasn't from the distant past."
He added: "I love the work of Ben Macintyre, it's all real, so the level of truth is filtered through these amazing boys. I just thought I had to get involved, I just wanted to be with these guys and This crazy desert and these adventures, and it all felt really timely. "
Referring to a scene later in the show where the newly formed SAS parachutes during a sandstorm, Shankland continued: "I read a script that looked like" the weather is absolutely terrible, there's a sandstorm, 50 guys take off a plane anyway and I think that yes, f*ck that we are going to jump "and I thought it couldn't be real, but I read [Macintyre's book] and yes they did. They really did. I thought it was so off-scale [and] stunning. "
SAS: Rogue Heroes premiered on EPIX on Sunday, November 13 at 9 p.m. EST and will air weekly.
#Heroes #rebellious #true #story

Source link