Your heart is like any other muscle – it needs exercise to stay healthy.
At the peak of the COVID pandemic in 2020, heart disease was the leading cause of death in the US, according to the Centers for Disease Control and Prevention. but many studies 4 have shown that cardiovascular diseases affecting the heart or blood vessels can be prevented with regular physical activity – specifically aerobic or endurance exercise, also known as cardio.
According to the American Heart Association, "Even light-intensity activity can offset some of the risks of being sedentary."
benefits of physical activity
The AHA says the health benefits of being active include:
Lower risk of heart disease, stroke, type 2 diabetes, high blood pressure, dementia and Alzheimer's, various types of cancer, and some pregnancy complications
Better sleep, including improved insomnia and obstructive sleep apnea (interruptions in breathing)
Improved cognition, including memory, attention and processing speed
Weight loss, obesity and related chronic health conditions
Improve bone health and balance, with a reduced risk of injury from a fall
Decreased symptoms of depression and anxiety
Enhanced quality of life and a sense of overall well-being.
How Much Cardio Should I Do Every Week?
The government recommends 150 to 300 minutes of moderate-intensity aerobic exercise each week, or 75 to 150 minutes of vigorous-intensity cardio, or a combination of both. Doing so will help you "avoid the adverse consequences of our highly sedentary lifestyles," says Dr. William Cross told newsweek,
Moderate intensity can mean brisk walking or any other activity that makes it difficult for you to breathe but still be able to talk. Vigorous exercise would be running or jogging, which will make you unable to talk much without holding your breath. Muscle and bone-strengthening exercises are also recommended.
Karen Maxwell, a personal trainer and director of training at exercise studio company CycleBar, tells newsweek: "Consistency is key, but you don't want to overdo your cardio because you can lose muscle mass."
Doing cardio three to four times a week is ideal, "especially if combined with a non-cardio-based strengthening and toning workout."
He recommends doing at least 30 minutes of cardio per session, adding that most group fitness classes are 45 minutes long, "so look for those cycling, rowing, and climbing classes."
The US Surgeon General says that children and adolescents should get 60 minutes of physical activity every day.
The US Department of Health and Human Services has also published specific recommendations for older adults, people with disabilities, and pregnant women. physical activity guidelines for americans,
guidelines for older adults
Older adults "should determine their level of effort for physical activity relative to their level of fitness", according to the HHS. People with chronic health conditions should establish whether this affects their ability to safely perform regular physical activity.
People who cannot do 150 minutes of moderate-intensity aerobic activity a week because of chronic health conditions should "be as physically active as their abilities and circumstances allow."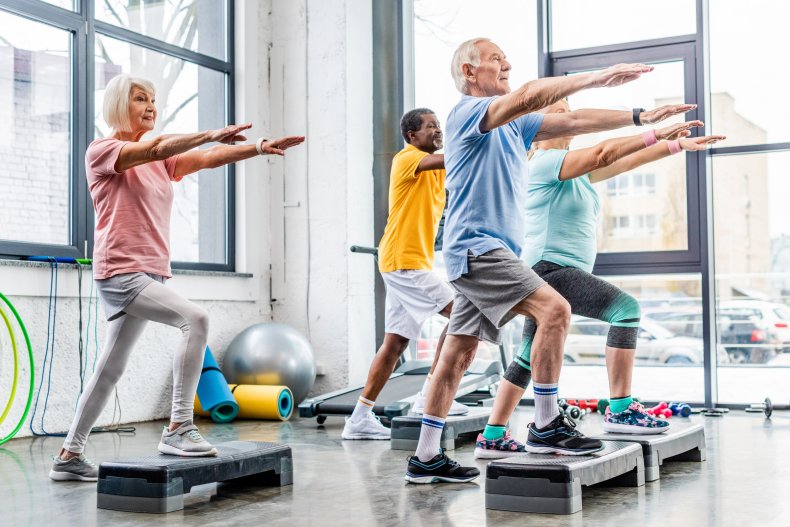 Guidelines for people with chronic health conditions or disabilities
The HHS says adults with chronic conditions or disabilities should do the recommended 150-300 minutes of moderate-intensity activity or 75-150 minutes of vigorous-intensity activity if they can. These workout sessions should preferably be spread out throughout the week.
Those who are unable to do so should "engage in regular physical activity to the best of their abilities and avoid inactivity."
Guidelines for pregnant women
Women can consult with their health care provider about adjusting their physical activity during pregnancy and after giving birth.
The HHS recommends that pregnant women do at least 150 minutes of moderate-intensity aerobic activity a week during pregnancy as well as in the postpartum period. Workouts should also preferably be spread throughout the week.
Women who regularly did vigorous aerobic activity before becoming pregnant can continue these exercises during pregnancy and after birth.
What type of cardio is recommended?
Cross recommends any type of activity that gets one's heart rate up to a level of moderate or vigorous intensity — if it is an activity that is "enjoyed."
Options may include "brisk walking or jogging about eight to 16 miles per week. In general, biking's equivalent distance is about five times that, or 40 to 80 miles per week, and swimming five times less, or 1.6 to 3.2." Miles per week. Weeks."
Maxwell suggests that low-impact cardio, which is easy on the joints, and interval training, which combines short bursts of intense activity with long intervals of moderate exercise, "will be most effective."
She recommends indoor cycling, rowing or climbing because they "provide longevity and stability to your body."
Indoor cycling is Maxwell's "favourite, go-to" low-impact workout because of the music. She explained that many indoor cycling classes feature "rhythm-based rides with interval-driven programming, so music plays a big part in the workout."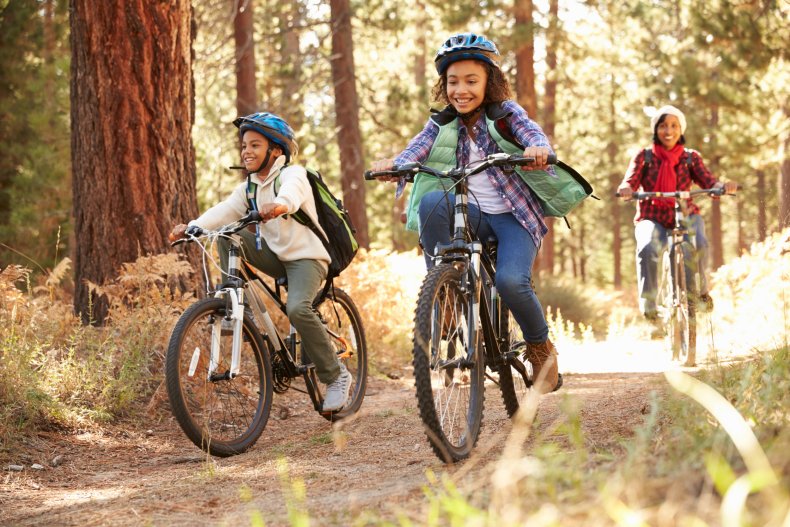 moderate intensity aerobic workout
Below are some moderate-intensity aerobic activities, as defined by the AHA:
brisk walking (at least 2.5 mph)
water aerobics
dance (ballroom or social)
gardening
Tennis (doubles)
biking slower than 10 mph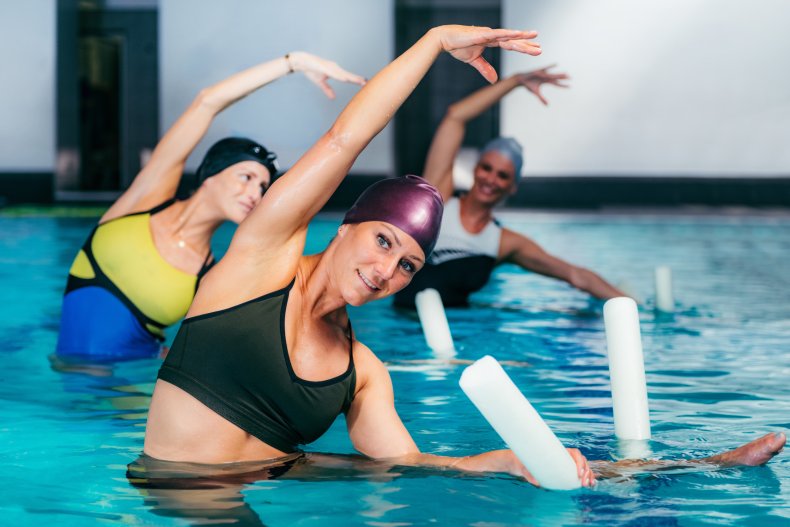 vigorous intensity aerobic workout
Below are some vigorous-intensity aerobic activities, as defined by the AHA:
Climbing or hiking when carrying heavy bags
run
swimming laps
aerobic dance
Heavy yard work (such as frequent digging or digging)
Tennis (Singles)
cycling 10 mph or faster
jumping rope