Patriots

The New England defense, so often its saving grace during the team's modest and interrupted three-game winning streak, could not be stopped when it needed to.
Welcome to the Unconventional Review, an immediate response to the standout elements, stats, and story lines of the latest Patriots game. . .
The Patriots' 33-26 defeat to the Vikings on Sunday night was something of a reversal of their standard mode of operation this season.
The offensive, so often a stagnant, uninspired unit, delivered a performance that would have resulted in victory on most nights. Mac Jones completed 28-of-39 passes for 382 yards and two touchdowns, easily his second-season best. A makeshift offensive line that did not include David Andrews and Isaiah Wynn held back the Vikings' rush. There have been frustrations – too often kicker Nick Folk (four shots from the field) has been called in to save stoppages – but ultimately it should be seen as an encouraging offensive performance to build on.
Unfortunately, the Patriots' defense, so often their saving grace during their meager and interrupted three-game winning streak, couldn't stop when they needed it. They allowed 33 points, tied for second most points conceded all season, while Vikings worldwide receiver Justin Jefferson played a big game whenever the moment called for it. The Patriots still have a defense to believe in – it's not The Boogeymen Part II – but it wasn't their best night.
Some further thoughts, after reviewing immediately. . .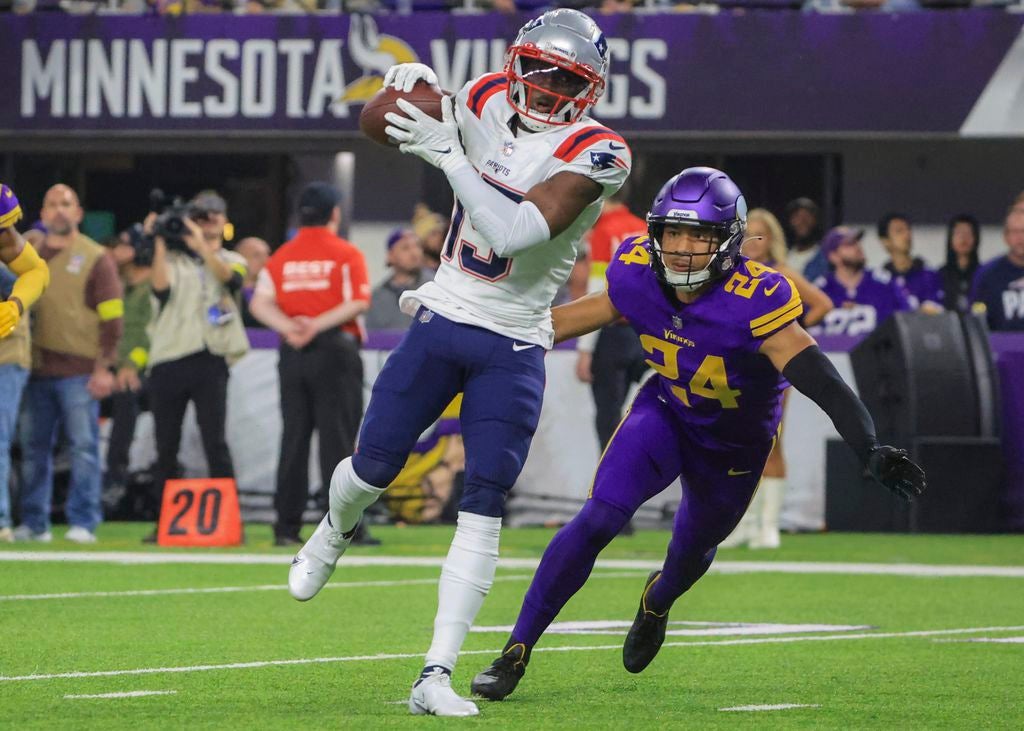 Three players worth watching
Players suggested in Unconventional Preview: Justin Jefferson, Matthew Judon, Dalvin Cook.
Justin Jefferson: How ridiculously good is this guy? You notice he dropped nine catches for 139 yards and a touchdown on the Patriots, and two thoughts immediately come to mind: Wow, he really felt like he had twice as much yardage and, you know, the Patriots didn't really do a terrible job defending him. They tried to double link it, which was the ultimate show of respect from Bill Belichick, who had no other way of trying to take back the Vikings' most dangerous weapon. But it didn't help much, especially as the Vikings played at a fast pace to limit the chances of getting extra defensive defenders on the pitch. Jefferson scored the first touchdown of the game with a cross from 6 yards after the Vikings opened the ball. His best game? Although he had his best moments everywhere, possibly a 37-yard jump catch with Jonathan Jones and Devin McCourty in the second quarter. The attention it attracts makes life much easier for other pass catchers. Sharp end tacklers Adam Thielen and TJ Hockenson combined for 14 catches, 104 yards and two touchdowns. I'm convinced: Jefferson is the main receiver in the NFL.
Nelson Agholor: Really, we could quote some Patriots' pass catchers at this point. Six players had at least three catches, and five – Agholor, Jakobi Meyers, Hunter Henry, Rhamondre Stevenson and DeVante Parker – collected at least 62 yards in the air. But Agholor gets the nod because he stepped in for the first run when Meyers came out briefly with what appeared to be a shoulder injury and caught a 34-yard TD hit from Jones to tie the game for 7. Agholor's catch, one of his six-for-eight goals for 65 yards, gave the Patriots – and it's crazy it took this long – their first touchdown in the first quarter of the season. Unfortunately, he couldn't come up with Jones' fourth desperation in the Patriots' penultimate offensive possession.
Josh Uche: The Patriots went into the game with the second most sacks in the league (36), but their infamous passing fever was mostly gossip against a Viking line that wasn't supposed to be very resilient. The Judon went without a sack for only the third time this season, and the Patriots only managed one sack as a team. This was courtesy of Uche, his fifth in the last four games, and at the moment it was a great game. In the first snap of the fourth quarter, he buried Kirk Cousins ​​for a 9-yard loss in second and eighth in New England territory. The Vikings eventually had to settle for a 36-yard field goal from Greg Joseph to tie the game at 26.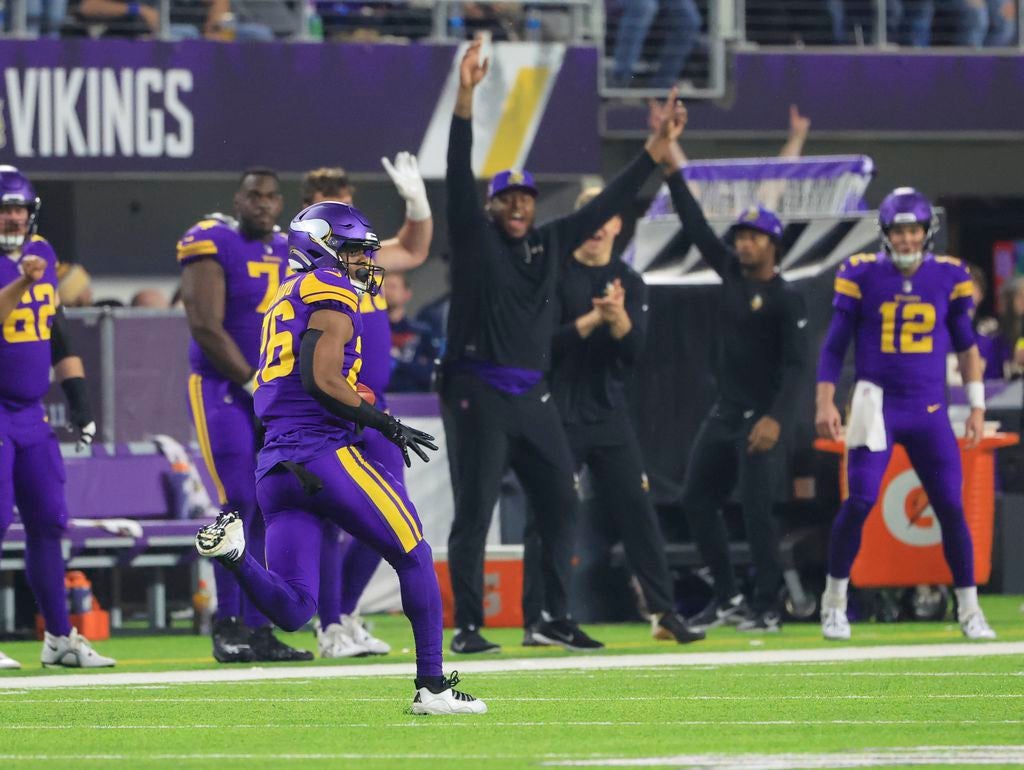 Complaint about the game
Besides starring in some aspects, the Patriots deserve Belichick to light them up in their next film shoot. They made all sorts of mistakes, from Jonathan Jones's two facemask penalties, to losing control of Kene Nwangwu after returning from 97 yards to level the score at 23 in the third quarter, to having to settle for field goals when they started with an excellent fielding position, especially after Jones returned for a 55-yard interception for the Vikings' 17 yards in the first quarter. But the biggest mistake, without exception, was rookie Pierre Strong who ran into a player in fourth and third with the Vikings 36 at 11:04 by the end of the game. Strong gave the Vikings the first strike and restored their momentum. Three plays later, Thielen had a touchdown – for the Vikings, winning. Just totally unforgivable play in this situation.
Three notes in the margin
Predicted Score: Patriots 23, Vikings 20
Final result: Vikings 33, Patriots 26
Apparently it was easier to shut down Hockenson when he was with the Lions. Kyle Dugger and his fellow belayers held a talented, tight finish of one catch for six yards in Week 6. Hockenson, who went to the Vikings before the trade deadline, took full advantage of his chance for revenge by beating Dugger, who fell during the game, for a touchdown while also making five catches for 43 yards this time. . . It wasn't a bad night for one of the Patriots' tight ends either. Henry thumped 37 yards for a touchdown in the first series of the second half to give the Patriots an interim 23–16 lead. He almost had a second TD catch later in the third quarter, grabbing the goal line from a jump, but it was knocked down after a review after the ball appeared to touch the ground before it was completely secured. The Patriots had to settle for a goal from the game and a 26:23 lead. . . All I can say about the NBC broadcast is that Cris Collinsworth can't have Thanksgiving off every year anymore.
Sign up for Patriots🏈 updates
Get the latest news and analysis delivered to your inbox during football season.
var consent="grant";
/* The above code is parsing the JSON data from the local storage and storing it in a variable. */
const onetrustStorageConsent = JSON.parse(localStorage.getItem( 'consent_one_trust_bdc' ) );
if ( ( onetrustStorageConsent !== null ) ) {
/* Checking to see if the user has consented to the use of cookies.
* If they have not, it is deleting the cookie.
* This will comment for now, until further notice.
*/
//if ( onetrustStorageConsent.C0002 === false ) {
// document.cookie="_fbp=;expires=Thu, 01 Jan 2010 00:00:00 UTC; path=/; domain=.boston.com";
//}
/* Checking if the user has given consent for the cookie C0002.
* If the user has given consent, the variable consent will be set to 'grant'.
* If the user has not given consent,the variable consent will be set to 'revoke'.
* Documentation
*/
if ( onetrustStorageConsent.C0002 !== true ) {
consent="revoke";
}
}
!function(f,b,e,v,n,t,s)
{if(f.fbq)return;n=f.fbq=function(){n.callMethod?
n.callMethod.apply(n,arguments):n.queue.push(arguments)};
if(!f._fbq)f._fbq=n;n.push=n;n.loaded=!0;n.version='2.0′;
n.queue=[];t=b.createElement(e);t.async=!0;
t.src=v;s=b.getElementsByTagName(e)[0];
s.parentNode.insertBefore(t,s)}(window, document,'script',
'
fbq('consent', consent);
fbq('init', '989222871864976');
fbq('track', 'PageView');
var consent="grant";
/* The above code is parsing the JSON data from the local storage and storing it in a variable. */
const onetrustStorageConsent = JSON.parse(localStorage.getItem( 'consent_one_trust_bdc' ) );
/* Checking to see if the user has consented to the use of cookies.
* If they have not, it is deleting the cookie.
* This will comment for now, until further notice.
*/
//if ( onetrustStorageConsent.C0002 === false ) {
// document.cookie="_fbp=;expires=Thu, 01 Jan 2010 00:00:00 UTC; path=/; domain=.boston.com";
//}
/* Checking if the user has given consent for the cookie C0002.
* If the user has given consent, the variable consent will be set to 'grant'.
* If the user has not given consent,the variable consent will be set to 'revoke'.
* Documentation
*/
if ( ( onetrustStorageConsent !== null ) && (onetrustStorageConsent.C0002 !== true ) ) {
consent="revoke";
}
!function(f,b,e,v,n,t,s){if(f.fbq)return;n=f.fbq=function()
{n.callMethod? n.callMethod.apply(n,arguments):n.queue.push(arguments)}
;if(!f._fbq)f._fbq=n;
n.push=n;n.loaded=!0;n.version='2.0′;n.queue=[];t=b.createElement(e);t.async=!0;
t.src=v;s=b.getElementsByTagName(e)[0];s.parentNode.insertBefore(t,s)}(window,
document,'script','
fbq('consent', consent);
fbq('init', '813236348753005');
fbq('track', "PageView");
#cruel #twist #Patriots #offense #play #defense

Source link