Local

"At first, it takes an idiot to devastate public property, but a really malicious idiot must devastate public property that exists to ensure disabled access to outdoor spaces."
Carbuncle Pond was not stocked with special fish, as other water bodies were this weekend in honor of Veterans Day, after "one or more knuckleheads" dropped a portable toilet, according to the Rhode Island Department of Environmental Management.
"At first it takes an idiot to devastate public property, but a really malicious idiot must devastate public property that exists to ensure access to outdoor spaces for people with disabilities," said DEM spokesman Michael Healey.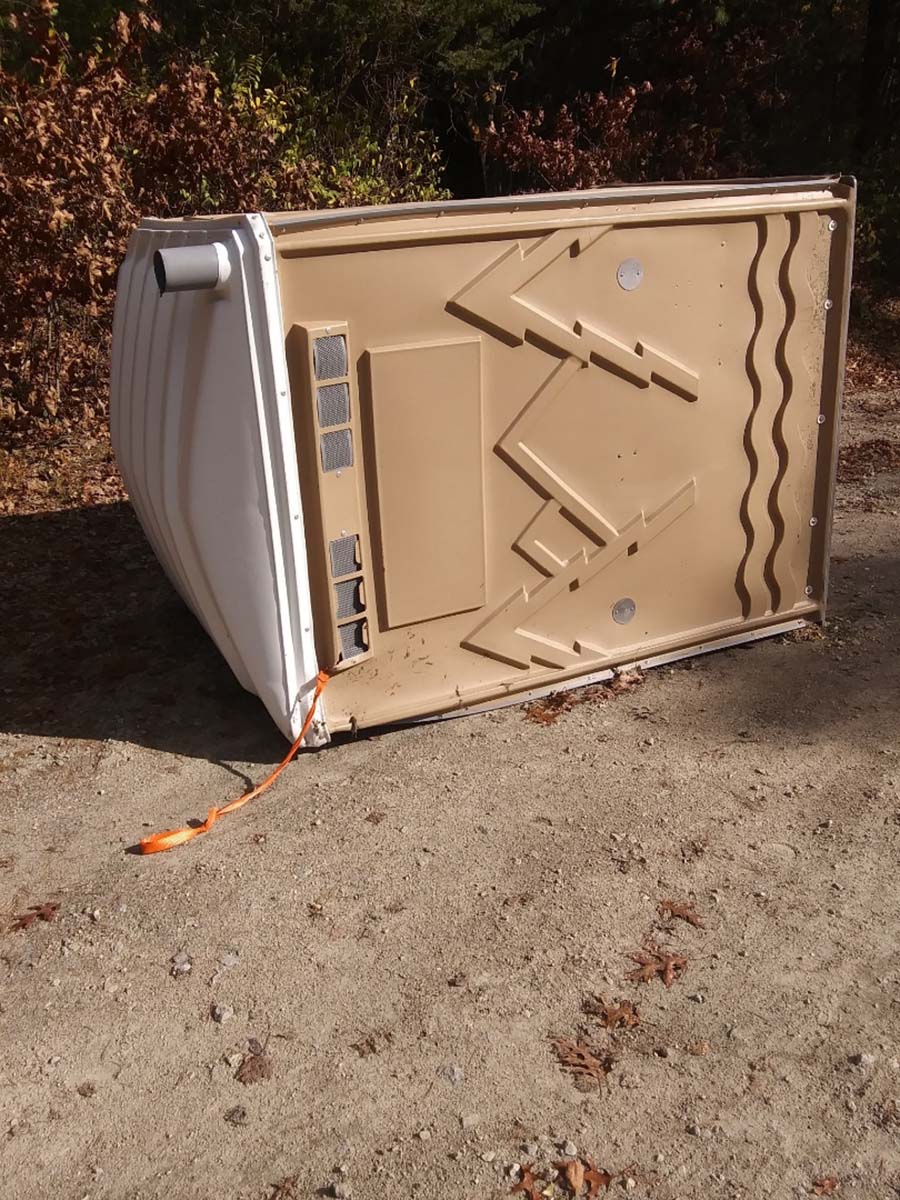 Explaining what happened, Healey said: "We believe that on Thursday, November 3, at some point after dark, one or more knuckleheads, possibly a group of knuckleheads, decided to dump the universal portajohn we keep at Carbuncle Pond, Coventry, into the pond. .
A spokesman said a vent pipe in a portable toilet sticks out of the water about 50 feet from the dock after the incident.
The toilet was removed from the pond last weekend by "some fishing citizens," Healey said, noting that the department was grateful to them for it.
"ADA's portable toilets cost $ 2,500 apiece," Healey said. "This one is broken and our salesman is understandably p*ssed."
In addition, the person or group of people who threw the toilet in the water also knocked over two other portable toilets in the parking lot, the spokesman said.
"Time that could be spent on maintaining or improving other features of the DEM – wildlife management areas, fisheries, etc. – should be spent instead on removing vandalism," Healey said.
DEM Eight other ponds and lakes were stocked with fish with a special trout and salmon this week to honor the veterans ahead of the holiday weekend, but we'll hold back Carbuncle sourcing for now.
Healey said officials will likely wait until ice fishing season to get Carbuncle.
"DEM will have to take water samples to determine when we can re-stock water there," he noted. "Carbuncle is a big pond and our portajohn dealer assures us that the sanitizing solution used in portajohn is environmentally friendly, but nicely speaking, poop in the pond is a biological hazard and we will be wandering on the side of discretion and not supplying the pond for now.
This is not the first time there has been vandalism on a DEM property, Healey added, explaining that in March, vandals att*cked a trail accessible to ADA Tefft Hill in Upper Roaring Brook in the Arcadia management area.
An overview of the damage, which included destroying the fishing line recycling box and large kiosk, removing structural parts, and throwing the wheelchair ramp and smaller kiosk into the water can be seen in the video below:
Healey noticed that the raised sidewalk is so damaged that it cannot even be repaired and needs to be replaced. The job will cost $ 40,000, he said.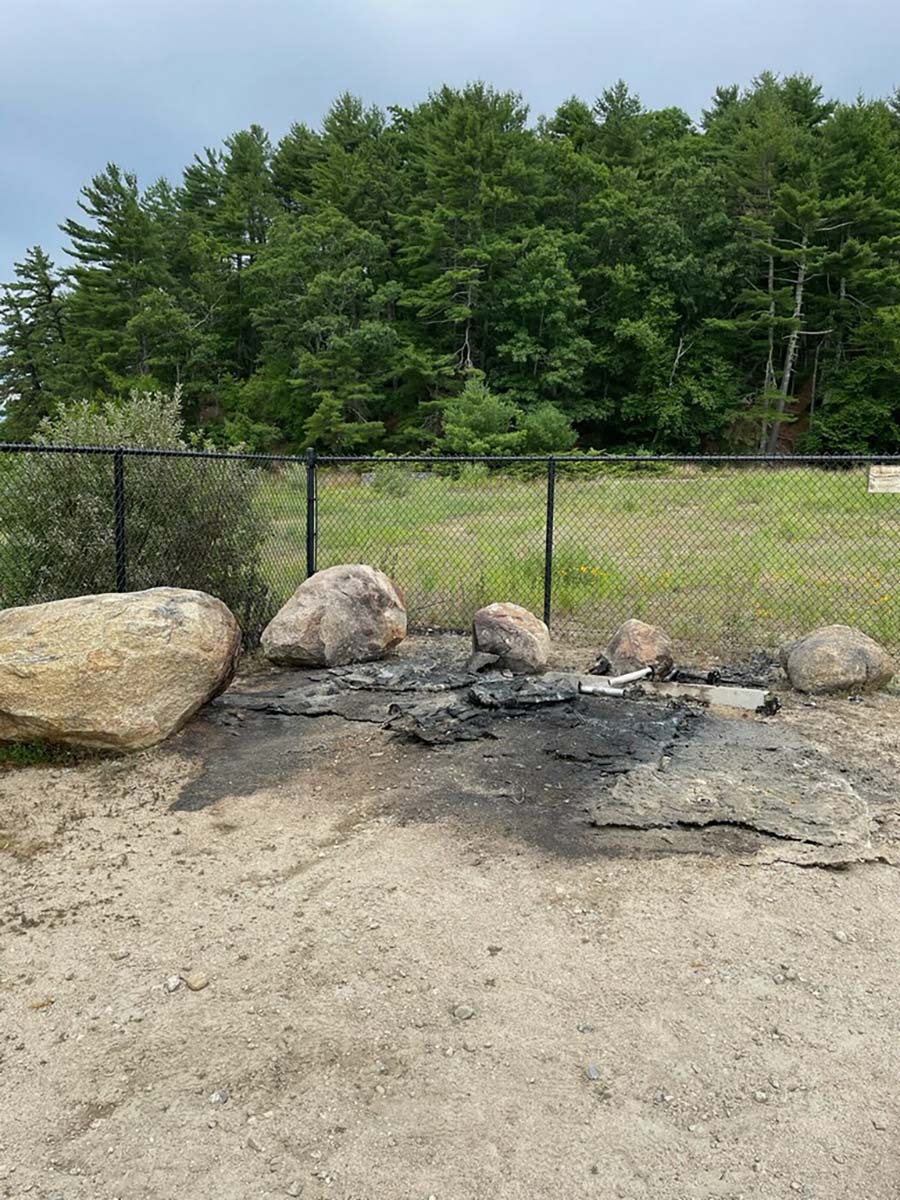 "We routinely deal with illegal dumping of rubbish and household items such as mattresses, graffiti, damage to gates and locks, damage to parking lots and access roads, damage to docks, border boulders sliding on boat ramps and fishing access areas, destruction and removal of signs e.t.c." Healey said.
He said two portable toilets in Beach Pond, Exeter, burned down during their July 4th vacation this summer.
"These incidents, which seem to involve facilities for people with disabilities, are, however, particularly low-key and despicable," Healey said. "We do not accept this behavior."
"Our mission is to maintain these unique sites for wildlife habitats and for society – that is, everyone in society – to enjoy outdoor recreation," he added. "Vandalizing facilities for disabled people deprives them of the opportunities and access that people without disabilities take for granted.
"If members of the public suspect vandalism or a violation of solid waste regulations, such as illegal disposal on DEM-managed properties, please contact our 24/7 dispatch center on 222-3070," Healey said. "It is up to all of us to protect our public lands so that they can be enjoyed for future generations."
Subscribe to the newsletter
Stay up to date with the latest news from Boston.com
var consent="grant";
/* The above code is parsing the JSON data from the local storage and storing it in a variable. */
const onetrustStorageConsent = JSON.parse(localStorage.getItem( 'consent_one_trust_bdc' ) );
if ( ( onetrustStorageConsent !== null ) ) {
/* Checking to see if the user has consented to the use of cookies.
* If they have not, it is deleting the cookie.
* This will comment for now, until further notice.
*/
//if ( onetrustStorageConsent.C0002 === false ) {
// document.cookie="_fbp=;expires=Thu, 01 Jan 2010 00:00:00 UTC; path=/; domain=.boston.com";
//}
/* Checking if the user has given consent for the cookie C0002.
* If the user has given consent, the variable consent will be set to 'grant'.
* If the user has not given consent,the variable consent will be set to 'revoke'.
* Documentation
*/
if ( onetrustStorageConsent.C0002 !== true ) {
consent="revoke";
}
}
!function(f,b,e,v,n,t,s)
{if(f.fbq)return;n=f.fbq=function(){n.callMethod?
n.callMethod.apply(n,arguments):n.queue.push(arguments)};
if(!f._fbq)f._fbq=n;n.push=n;n.loaded=!0;n.version='2.0′;
n.queue=[];t=b.createElement(e);t.async=!0;
t.src=v;s=b.getElementsByTagName(e)[0];
s.parentNode.insertBefore(t,s)}(window, document,'script',
'
fbq('consent', consent);
fbq('init', '989222871864976');
fbq('track', 'PageView');
var consent="grant";
/* The above code is parsing the JSON data from the local storage and storing it in a variable. */
const onetrustStorageConsent = JSON.parse(localStorage.getItem( 'consent_one_trust_bdc' ) );
/* Checking to see if the user has consented to the use of cookies.
* If they have not, it is deleting the cookie.
* This will comment for now, until further notice.
*/
//if ( onetrustStorageConsent.C0002 === false ) {
// document.cookie="_fbp=;expires=Thu, 01 Jan 2010 00:00:00 UTC; path=/; domain=.boston.com";
//}
/* Checking if the user has given consent for the cookie C0002.
* If the user has given consent, the variable consent will be set to 'grant'.
* If the user has not given consent,the variable consent will be set to 'revoke'.
* Documentation
*/
if ( ( onetrustStorageConsent !== null ) && (onetrustStorageConsent.C0002 !== true ) ) {
consent="revoke";
}
!function(f,b,e,v,n,t,s){if(f.fbq)return;n=f.fbq=function()
{n.callMethod? n.callMethod.apply(n,arguments):n.queue.push(arguments)}
;if(!f._fbq)f._fbq=n;
n.push=n;n.loaded=!0;n.version='2.0′;n.queue=[];t=b.createElement(e);t.async=!0;
t.src=v;s=b.getElementsByTagName(e)[0];s.parentNode.insertBefore(t,s)}(window,
document,'script','
fbq('consent', consent);
fbq('init', '813236348753005');
fbq('track', "PageView");
#Knuckleheads #throw #portable #toilet #Pond

Source link