Real estate news

The fall in the cost of borrowing helped spur demand as the group's home-purchase index rose 2.8%.
US mortgage rates fell sharply for the second week, hitting a two-month low and providing some traction to a beleaguered housing market.
The interest rate on a 30-year fixed-rate mortgage contract fell 23 basis points to 6.67% in the week ending November 18, according to Mortgage Bankers Association data published on Wednesday. The results reflect a shift in Freddie Mac's methodology, which the company says will provide a broader, more accurate picture of the mortgage market. Starting last week, instead of surveying lenders, it now uses data collected by an automated underwriting system to calculate average rates.
Interest rates have fallen nearly half a percentage point in the past two weeks, the most since 2008 as the recession deepens, inflation shows signs of cooling and many Federal Reserve officials say it may soon be appropriate to slow down the pace of monetary policy tightening.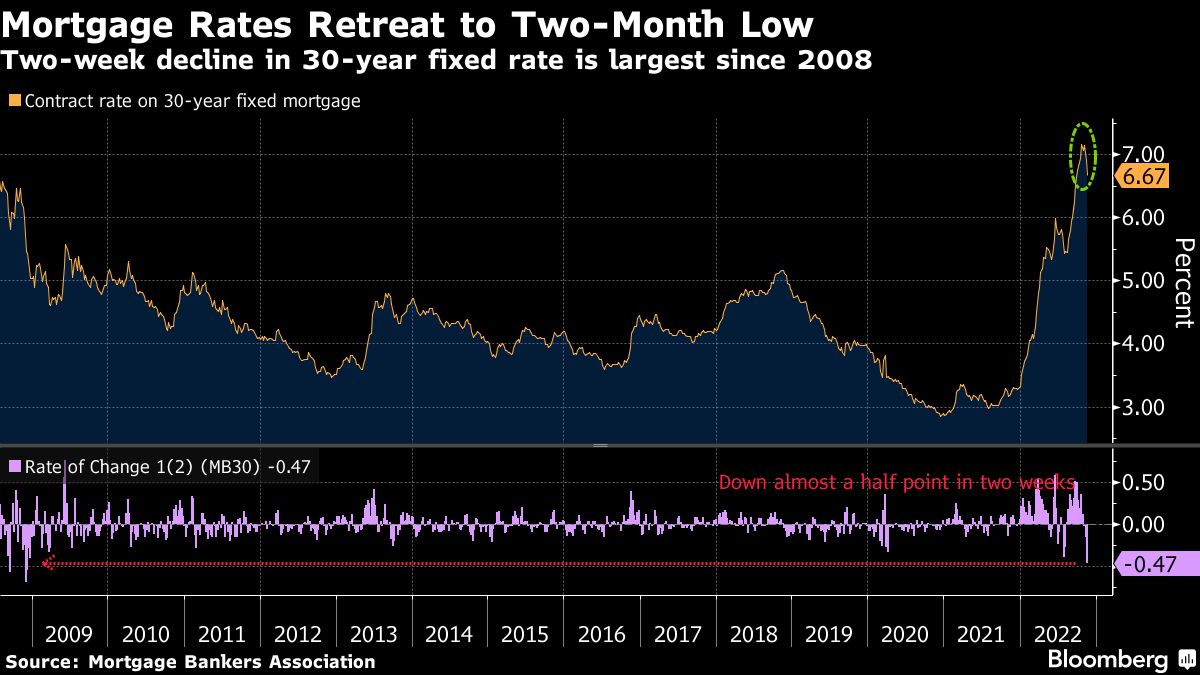 The fall in the cost of borrowing helped spur demand as the group's home-purchase index rose 2.8%. This marked the third straight increase since the index fell to its weakest level since 2015.
The surge in demand allowed overall mortgage applications, including refinances, to increase for the second week, but still remains low. The refinancing activity index rose from its lowest level in 22 years.
Bulletin address
Get the latest news on buying, selling, renting, designing homes and more.
The housing market has been hit this year by a sharp rise in mortgage rates. Minutes from the Fed's meeting earlier this month could provide clues about the pace of the upcoming rate hikes and how high the cost of borrowing will ultimately be when released on Wednesday.
Other figures on Wednesday include the latest mortgage rates as measured by Freddie Mac, as well as new home sales, which are forecast to fall in October.
The MBA survey, which has been conducted weekly since 1990, uses responses from mortgage, commercial and savings banks. The data covers over 75% of all US retail home loan applications.
var consent="grant";
/* The above code is parsing the JSON data from the local storage and storing it in a variable. */
const onetrustStorageConsent = JSON.parse(localStorage.getItem( 'consent_one_trust_bdc' ) );
if ( ( onetrustStorageConsent !== null ) ) {
/* Checking to see if the user has consented to the use of cookies.
* If they have not, it is deleting the cookie.
* This will comment for now, until further notice.
*/
//if ( onetrustStorageConsent.C0002 === false ) {
// document.cookie="_fbp=;expires=Thu, 01 Jan 2010 00:00:00 UTC; path=/; domain=.boston.com";
//}
/* Checking if the user has given consent for the cookie C0002.
* If the user has given consent, the variable consent will be set to 'grant'.
* If the user has not given consent,the variable consent will be set to 'revoke'.
* Documentation
*/
if ( onetrustStorageConsent.C0002 !== true ) {
consent="revoke";
}
}
!function(f,b,e,v,n,t,s)
{if(f.fbq)return;n=f.fbq=function(){n.callMethod?
n.callMethod.apply(n,arguments):n.queue.push(arguments)};
if(!f._fbq)f._fbq=n;n.push=n;n.loaded=!0;n.version='2.0′;
n.queue=[];t=b.createElement(e);t.async=!0;
t.src=v;s=b.getElementsByTagName(e)[0];
s.parentNode.insertBefore(t,s)}(window, document,'script',
'
fbq('consent', consent);
fbq('init', '989222871864976');
fbq('track', 'PageView');
var consent="grant";
/* The above code is parsing the JSON data from the local storage and storing it in a variable. */
const onetrustStorageConsent = JSON.parse(localStorage.getItem( 'consent_one_trust_bdc' ) );
/* Checking to see if the user has consented to the use of cookies.
* If they have not, it is deleting the cookie.
* This will comment for now, until further notice.
*/
//if ( onetrustStorageConsent.C0002 === false ) {
// document.cookie="_fbp=;expires=Thu, 01 Jan 2010 00:00:00 UTC; path=/; domain=.boston.com";
//}
/* Checking if the user has given consent for the cookie C0002.
* If the user has given consent, the variable consent will be set to 'grant'.
* If the user has not given consent,the variable consent will be set to 'revoke'.
* Documentation
*/
if ( ( onetrustStorageConsent !== null ) && (onetrustStorageConsent.C0002 !== true ) ) {
consent="revoke";
}
!function(f,b,e,v,n,t,s){if(f.fbq)return;n=f.fbq=function()
{n.callMethod? n.callMethod.apply(n,arguments):n.queue.push(arguments)}
;if(!f._fbq)f._fbq=n;
n.push=n;n.loaded=!0;n.version='2.0′;n.queue=[];t=b.createElement(e);t.async=!0;
t.src=v;s=b.getElementsByTagName(e)[0];s.parentNode.insertBefore(t,s)}(window,
document,'script','
fbq('consent', consent);
fbq('init', '813236348753005');
fbq('track', "PageView");
#Mortgage #rates #fall #week

Source link