From a cat caught red-handed stealing tacos to a hamster smuggled in with its napping owner, this week we're looking at what it's like to capture animal antics.
Even better, our readers are sending photos of their pets and telling us all about their companions. Given the difficult task of choosing newsweek Pet of the Week, a pair of patriotic dogs won our hearts this week.
Don't forget, if you want your pet featured on Greeley Tribune, scroll through to the end of this story for details on how to get involved.
Winners
This week we've picked two winning pets—best friends Maggie May and Sophie Jo the dogs.
Presented by her owner Michelle Connors of Greenville, North Carolina, she says the adopted girls are her "best friends."
In the adorable picture, the dog is seen wearing the extra special American flag bandana around his neck. "Both girls love the USA," Connors said: "Their brothers and grandparents are Air Force and Navy veterans."
according to recent data insurance company petsecureSince the 1970s, pet ownership in the US has increased by more than 300 percent. Now, 90 percent of Americans say a pet is part of their family.
Connors told newsweek More said of English Bulldog Maggie Mae: "He always has a toy in his mouth, ready to play. His stubborn traits and his goofy personality make us laugh."
Maggie holds a particularly special place in Connors' heart. She explained: "Maggie is my angel dog. She was born the day my dearly beloved 97-year-old grandmother died. It was during the COVID-19 lockdown and I couldn't go to the funeral."
Not the only puppy in the household, his best friend and partner in crime, Sophie Joe, a 9-year-old Labrador and basset mix, was adopted by the family when he was 2. Connors said: "We call her our lowrider. Sophie is food-driven and has the most talkative eyes. She's an old soul, we always feel like she's trying to talk to us."
While many will acquire a new member of their family from a breeder, The Humane Society of the United States says That approximately 3.2 million cats and dogs are adopted from shelters each year.
Final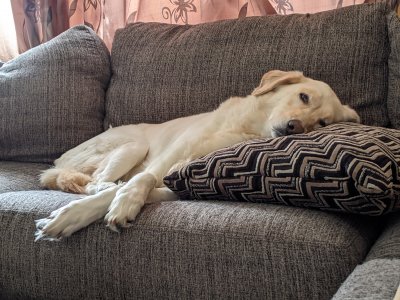 Following our first place winners this week are 6-year-old Australian shepherd mix Ella and 4-year-old pointer mix Gator.
Living with their owners in southern Alabama, the puppies had a rough start in life before finding their forever homes.
"I received Ella for her birthday when we dropped her and her brother at a gas station in Louisiana," said their owner: "She was very sick and boating with worms, and her tail in There was no fur because his brothers had chewed on him. Today, he is a happy and completely spoiled dog."
After Ella, the family obtained another canine friend in the form of Gator: "We found her as a puppy in a ditch near our house," explained her savvy owner: "Failing to find her original owner. After, we took him as our own. He is very protective and loves to sunbathe."
This week's lone cat finalist, the ginger cat King Arthur, lives with his owner, Carolyn Gifford. Holding the remote control tightly in the photos, Gifford said: "I believe he is trying to find his favorite screensaver."
This mischievous cat is also a fan of adding to Gifford's reading time: "He feels the need to tear up the pages," she added: "I read now that he's asleep."
Last but not least, our finalist boo 13-year-old Golden Retriever. Her owner Ronda submits adorable photos of her best friend kicking back home.