Russian troops are "vulnerable" to att*ck as they withdraw from Kherson – the United Kingdom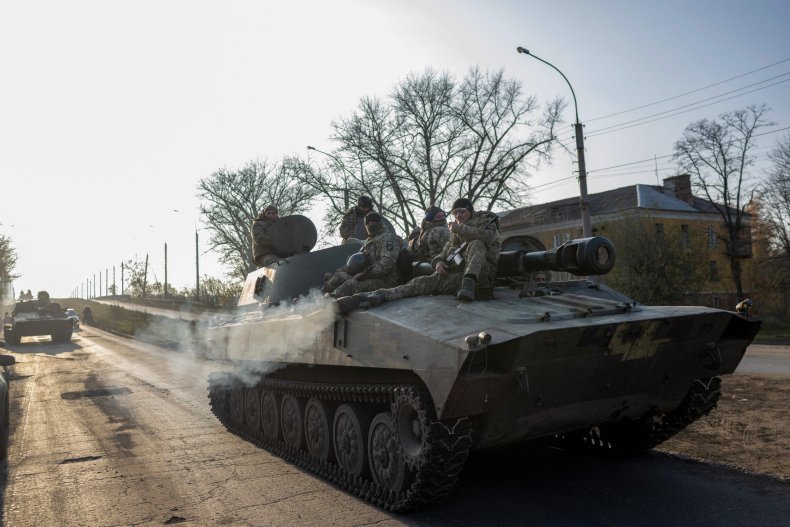 According to the British Ministry of Defense, Russian troops will be "vulnerable" to att*ck by withdrawing from the western part of the southern Kherson region of Ukraine.
The ministry, in its latest assessment of the war between Russia and Ukraine, stated that the order of Defense Minister Sergei Shoigu to withdraw troops by Dnieper it may expose Russian forces to att*ck by Ukrainian soldiers.
Sergei Surovikin, who became the new chief of Russian forces in Ukraine in October, said Wednesday that his troops were withdrawing to "save the lives of our soldiers and the fighting ability of a group of soldiers." The transfer "will be carried out in the near future," added Surovikin.
Shoigu said he had listened to Surovkin's report and ordered the withdrawal of Russian troops. He agreed with Surovikin and added that it was important to save military lives and prevent civilian casualties. The Kherson region has been under Russia's control since March 2.
The British defense ministry said on Thursday that retreating Russian forces had damaged many bridges and possibly installed mines to slow down and delay the advance of Ukrainian forces.
"With limited border crossings, Russian forces will be at risk of crossing the Dnieper [Dnieper] River, "he said, adding that it was likely the withdrawal would take place in a matter of days with defensive positions and artillery fire engulfing the retreating forces.
The withdrawal was announced after weeks of Kiev's offensive towards the city, and Russia began evacuating hundreds of thousands of its inhabitants.
Mykhailo Podolak, adviser to Ukrainian president Volodymyr Zelensky, is one of many Ukrainian officials who have expressed skepticism about Russia's withdrawal.
He said a significant proportion of Russian military personnel remained in the Kherson Oblast and that Kyiv saw no signs of Russia's withdrawal without a fight, despite Shoigu's statements.
Zelensky also said the announcement could be a trap to lure his troops into battle and said his forces were moving carefully in Kherson.
"I definitely won't be feeding the enemy all the details of our operations. South, East, anywhere else, when our score is up, everyone will see it. Certainly, "Zelenskiy said in his speech on Wednesday evening.
"Maybe it doesn't sound like what someone expects now. Maybe not like the news. But we must understand: no one leaves such places without feeling the power. The enemy does not give us gifts or make "goodwill gestures". We are fighting for it, "added Zelenski.
The Ukrainian Armed Forces will proceed "very carefully, carefully, without taking undue risk," he said.
"In this way, we intend to ensure the liberation of Kherson, Kakhovka, Donetsk and other cities in our country," added Zelenskiy.
Newsweek contacted the Russian Foreign Ministry for comment.
#Russian #troops #vulnerable #att*ck #withdraw #Kherson #United #Kingdom

Source link