Tornadoes left a trail of devastation in Texas and Oklahoma as photos shared on social media showed destroyed homes in Lone Star state and damage to vehicles.
At least one person was killed and dozens more injured by tornadoes that hit parts of both states, as well as Arkansas, while the storm system reportedly headed towards Louisiana.
One d*ath was confirmed in McCurtain County, Oklahoma, although details were not immediately available, while Lamar County, Texas officials reported that 10 people were injured and at least 50 homes were damaged or destroyed.
Photos and videos shared on Twitter showed the extent of the damage on Friday, including destroyed homes, damaged vehicles and trees, and large amounts of debris.
Amber Nowaski, a morning meteorologist at KTEN News in Texas, shared a photo of the house apparently completely destroyed.
For Paris FD [Fire Department], many people were trapped in their homes after a tornado passed through Powderly, Texas. This house was in Powderly at 271 North, "Nowaski wrote on Twitter.
Chicago & Midwest Storm Chasers shared a video from Cason, Texas on Twitter showing a heavily damaged truck, broken trees, and a significant amount of debris in the rain and lightning flashes.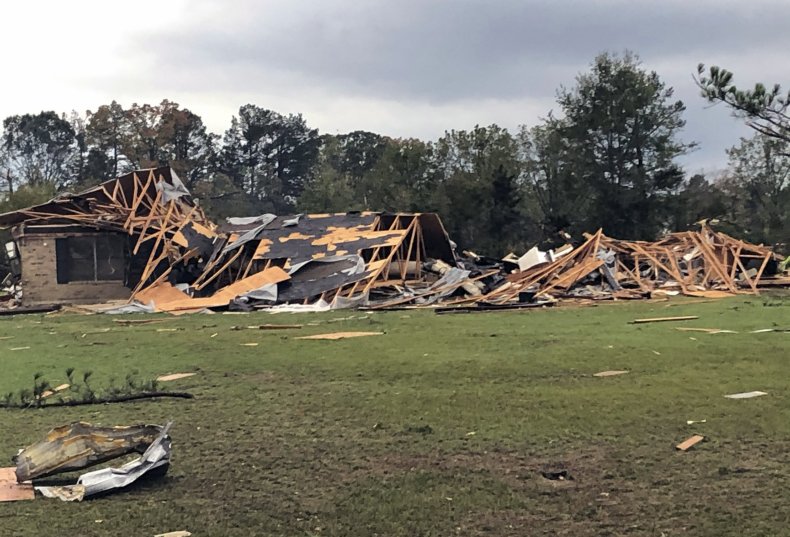 "Mt. Moriah Church and Hwy 49. I was first on the scene, helping people under the rubble that had severe head injuries where they were bleeding… People screamed for help. It turned out to be the worst-case scenario in Texas tonight, "Chicago & Midwest Storm Chasers tweeted.
Arkansas storm tracker Zachary Hall also posted a video from Cason that showed another badly damaged vehicle, heavy rains and part of a law enforcement response.
"Significant tornado damage in the Cason area of ​​Texas," Hall tweeted. "Big trees destroyed and vehicles badly damaged. Strong law enforcement / presence of rescuers ".
Filmmaker Jared Christopher shared footage of a tornado in Paris, Texas that showed significant amounts of debris, including wood and other materials that may have sourced from damaged homes.
In Oklahoma, the city of Idabel in McCurtain County has been hit particularly hard with the church, medical center and school tearing up, according to the Associated Press (AP).
"Idabel got a direct hit, so there's a lot of damage to the house, a lot of lines down," McCurtain County Emergency Manager Cody McDaniel told Fox Weather on Friday.
"It's not safe," said McDaniel, urging people to stay out of the area.
Oklahoma Governor Kevin Stitt inhe tweeted that he was praying "for Oklahomans hit by today's tornadoes. The storms hit, among others in the counties of Bryan, Choctaw and Le Flore.
The governor said his office would "work diligently" with the Oklahoma Department of Emergency Management and Homeland Security (ODEMHS).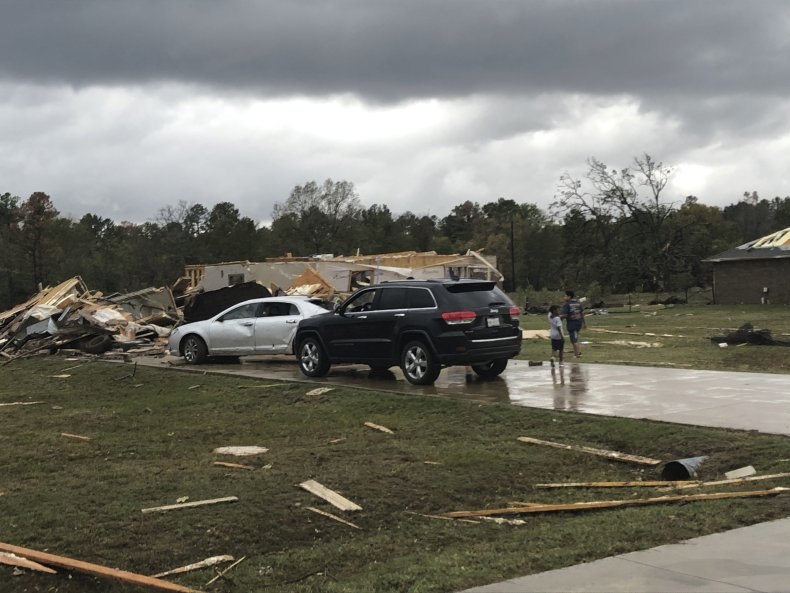 Texas Governor Greg Abbott tweeted Friday that he "has increased the State Operations Center's level of readiness to respond to the severe weather forecast for eastern Texas until late evening.
"Texas – listen to emergency guidance and stay safe," Abbott wrote.
#Texas #tornadoes #leave #trail #destruction #photos #show #damaged #homes

Source link