The part of the MBTA station where the man was killed last year has been closed for at least a month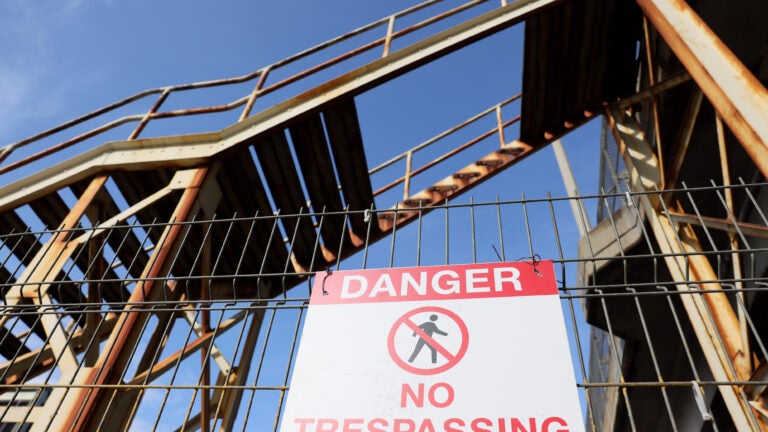 Local

A Boston University professor died last year at JFK/UMass station.
In the interest of public safety, the MBTA said on Tuesday that it was temporarily closing parts of the JFK/UMass station.
Over the weekend, inspectors "identified a critical structural problem" at the Columbia Road entrance to the station's footbridge, the MBTA said on Twitter. Post. The agency said it was closing the station concourse and passengers were being told to use the bus ramp to get to the station.
The on-demand accessible van service began on Tuesday afternoon. It will transfer riders between the Columbia Road entrance and the JFK/UMass bus when the hall is closed. Anyone who needs this service should speak to the MBTA staff at the station.
The station serves the red line, suburban railway and several bus lines.
MBTA engineers are working on plans to renovate structures that require improvements. Officials expect the hall to be closed for at least a month.
"We will continue to inspect and notify drivers if other repairs are needed. We remain committed to prioritizing the safety of our riders, services and infrastructure," MBTA said on Twitter.
While jogging daily, David Jones, a 40-year-old professor of public health at BU, died at the station on September 11, 2021. A heavily rusted staircase broke as Jones ran up it, causing him to fall about 20 feet into the ground.
Jones' wife filed a lawsuit this month against the MBTA and MassDOT on behalf of herself and her children.
Surveillance footage shows the stairs were partially blocked but still accessible.
Subscribe to the newsletter
Stay up to date with the latest news from Boston.com
var consent="grant";
/* The above code is parsing the JSON data from the local storage and storing it in a variable. */
const onetrustStorageConsent = JSON.parse(localStorage.getItem( 'consent_one_trust_bdc' ) );
if ( ( onetrustStorageConsent !== null ) ) {
/* Checking to see if the user has consented to the use of cookies.
* If they have not, it is deleting the cookie.
* This will comment for now, until further notice.
*/
//if ( onetrustStorageConsent.C0002 === false ) {
// document.cookie="_fbp=;expires=Thu, 01 Jan 2010 00:00:00 UTC; path=/; domain=.boston.com";
//}
/* Checking if the user has given consent for the cookie C0002.
* If the user has given consent, the variable consent will be set to 'grant'.
* If the user has not given consent,the variable consent will be set to 'revoke'.
* Documentation
*/
if ( onetrustStorageConsent.C0002 !== true ) {
consent="revoke";
}
}
!function(f,b,e,v,n,t,s)
{if(f.fbq)return;n=f.fbq=function(){n.callMethod?
n.callMethod.apply(n,arguments):n.queue.push(arguments)};
if(!f._fbq)f._fbq=n;n.push=n;n.loaded=!0;n.version='2.0′;
n.queue=[];t=b.createElement(e);t.async=!0;
t.src=v;s=b.getElementsByTagName(e)[0];
s.parentNode.insertBefore(t,s)}(window, document,'script',
'
fbq('consent', consent);
fbq('init', '989222871864976');
fbq('track', 'PageView');
var consent="grant";
/* The above code is parsing the JSON data from the local storage and storing it in a variable. */
const onetrustStorageConsent = JSON.parse(localStorage.getItem( 'consent_one_trust_bdc' ) );
/* Checking to see if the user has consented to the use of cookies.
* If they have not, it is deleting the cookie.
* This will comment for now, until further notice.
*/
//if ( onetrustStorageConsent.C0002 === false ) {
// document.cookie="_fbp=;expires=Thu, 01 Jan 2010 00:00:00 UTC; path=/; domain=.boston.com";
//}
/* Checking if the user has given consent for the cookie C0002.
* If the user has given consent, the variable consent will be set to 'grant'.
* If the user has not given consent,the variable consent will be set to 'revoke'.
* Documentation
*/
if ( ( onetrustStorageConsent !== null ) && (onetrustStorageConsent.C0002 !== true ) ) {
consent="revoke";
}
!function(f,b,e,v,n,t,s){if(f.fbq)return;n=f.fbq=function()
{n.callMethod? n.callMethod.apply(n,arguments):n.queue.push(arguments)}
;if(!f._fbq)f._fbq=n;
n.push=n;n.loaded=!0;n.version='2.0′;n.queue=[];t=b.createElement(e);t.async=!0;
t.src=v;s=b.getElementsByTagName(e)[0];s.parentNode.insertBefore(t,s)}(window,
document,'script','
fbq('consent', consent);
fbq('init', '813236348753005');
fbq('track', "PageView");
#part #MBTA #station #man #killed #year #closed #month

Source link